JEFF SAN AGUSTIN
(aka Vigilante Creative)
Facebook
Instagram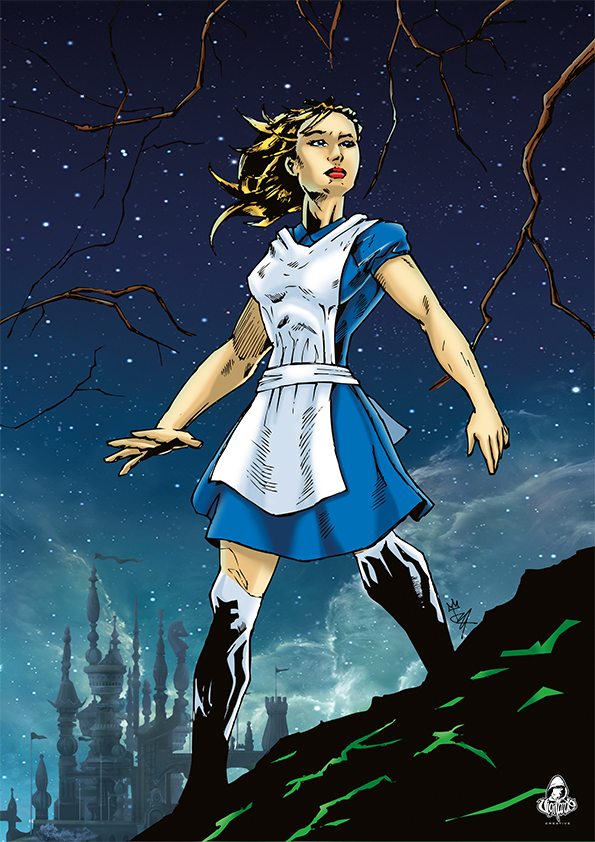 ARTIST: Jeff San Agustin (aka Vigilante)
TITLE: Alice in Wonderland
MEDIUM: Digital print
DIMENSIONS: 297 x 420mm
DATE: 2017
ARTIST: Jeff San Agustin (aka Vigilante Creative)
TITLE: Chadwick Forever
MEDIUM: Pencil
DIMENSIONS: 210 x 297mm
DATE: 2020
Artist's Statement -

Alice in Wonderland
Just recently getting back into art after many years hiatus, my peers started recognising a skill and a passion they've not known about me before. One of the first major pieces since returning to art was Alice in Wonderland. The purpose of this piece was as a personal gift to a friend, but the idea behind the imagery was to present a different way of presenting Alice. Instead of the usual colourful fairy tale aesthetic, I chose a darker tone, a superhero, with a comicbook-esque portrayal of an Alice who is lost in a land unknown.

Chadwick Forever
Three years since Alice in Wonderland, I've spent most of my days in between then and now trying to evolve my art and develop my skill to that 'extra level', which I hope I have achieved in my Chadwick Forever piece. The world was stunned to learn the talented performing artist had passed away unexpectedly. Most of us recognised him in what was arguably his biggest role, and his break-through performance in Marvel's 'Black Panther', playing King T'challa of Wakanda. My intention for this piece was to pay homage to his character, and display that, not only was he a king on screen, but was also seen as a king in his community.


Bio -

Williams Landing-based artist and devoted family man, Jeff (aka Vigilante Creative), has been passionate about arts in all forms his whole life, but has dedicated a lot of his personal time to evolving his craft in graphic design and drawing - particularly in the superhero/comic book niche. It's not only been his means to a living, but also a part of his means 'to living'. A hobby - a passion - an outlet - a momentarily escape from the daily grind we call 'reality'.

Jeff is not grounded in a single style of drawing/design but takes pride in being able to cross-over between styles and display his versatility. Constantly and immediately putting big ideas to paper, his creativity and attention to detail in the style of his work is aimed at influencing his audience to push the limits of their own imagination and think outside the box.